brief movie roles in 'My Man Adam' (1985), and 'Brewster's Millions' (1985), and 'Money Talks' (1972). He was immensely talented, and wrote his own songs and music, but sadly most of his work was never recorded. He was a devoted follower to the late Avatar Meher Baba, a religious leader. He was a very spiritual and kind man, and was loving to everyone who knew him. His solo song, "We Beseech Thee", was cut out of the film, but it can be heard on the original off-Broadway cast recording album.
After a brief illness, Jeffrey passed away on May 7, 1986 in Los Angeles, California, of AIDS. He is still sorely missed by his fans, friends, and family to this day. He has gained many fans still, even long after his death.
A dear friend of mine, Annette, has created a tribute site in his honor. I recommend that you visit it- it helped me to learn how amazing this fun-loving man truly was.
Character notes:
Very high energy. Impish and playful. In the original, he played several musical instruments, including concertina and recorder.
(Tenor - falsetto high D above staff)
Costume notes:
Brightly colored shirt, white jacket, Plaid pants with patches, -Derby, or My Fair Lady Hat, Tennis Shoes - painted tassle.-movement, "Mr. Lightening" Look - Carnival Man

My thoughts:
"I have loved Godspell since I was four years old, and he stands out most in my memory. I didn't know his name as they never said it, nor did I know they used the names of the actors, so he was known to me as 'the guy with the raccoon tail hat'. It wasn't until I watched it again when I was ... 13 or 14 years old, till I realized how adorable he was. And it wasn't until now that I really got back into the craze and became somewhat obsessed with this clown. I feel he was under-appreciated and deserves a whole lot more recognition. After visiting Annette's site, I was glad to know that he was appreciated by numerous fans still. I love him, he's my freakin' muse at the moment, and I hope that we meet someday, in wherever we end up." Y



Jeffrey (Martin) Mylett was born on June 8, 1949, in North Canton, Ohio. There, he attended Hoover High School. He knew he wanted to be an actor from the start. He went on to attend Carnegie Mellon University, but dropped out in 1969. He then moved to New York, but was called back a while later by a college friend, John-Michael Tebelak, who was creating the musical GODSPELL for his master's thesis in college.
Jeffrey's career started from this point- he was an original cast member of the off-Broadway cast, and eventually went on to star in the 1973 movie. He also worked in 'The Magic Show' with Lynne Thigpen, and had
<=======================================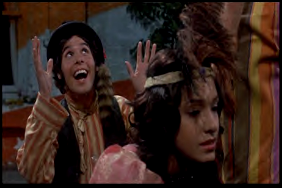 ^ A 20-Button Anglo concertina, ^
much like the one Jeffrey used in the film

^Annette's spiffy drawing! <3